Kokoboard is a social enterprise born from the desire to want to help people as well as the environment.
That alone makes me want to support Kokoboard. The fact that the boards they produce are made from waste by products is the icing on the cake for me.
Monday I had the pleasure of meeting Orapin Sinamornvech, she founded Kokoboard and told me the great story of how that happened.
Orapin used to work making TV commercials and she came across a Coconut farmer who asked her for help because his coconut business was not profitable anymore. She came up with a way of using coconut shells to make composite boards, the coconut shell dust and MDI glue for use in making fitted furniture or anything that replaces MDF.
So that is how Kokoboard got it's name.
Orapin went on to produce strawboard made from rice straw. It is beautiful, much more beautiful than the Chinese wheat strawboard because you can see more of the delicate strands, it has more character, I love it. It has amazing qualities too. It is more fire retardant than MDF and other wood composite boards due to the properties of straw. And unlike MDF and other composite boards such as chipboard it is moisture resistant.
Orapin told me about the test they do to test for this. They boil it for 1h, then dry it in the oven, then leave it 24h in cold water, then dry it again and start the cycle again for 3 times all together. The strawboard survived and the MDF was destroyed after the first 1h boiling! All this with no added chemical water repellants or fungicides etc. I love to say nature does things best!
Straw is the most popular, she also makes boards from peanut shells, I can smell the peanut shell, it reminds me of when I was young and I would eat tons of peanuts in a go after unshelling them I don't do things in halves. Flowers from the sunflower, rice husks, in fact if you know how you can use most things, Orapin even can make special boards with flowers on the very edge to make a design feature, or leaves, twigs, even jeans, anything.
The boards are all free of formaldehyde, Orapin tried formaldehyde glue at first because it is much cheaper but it is incredibly toxic, specially in the factory, the workers did not like it so she changed to an MDI type glue. I asked her if she had any plans to use natural glue in the future and of course she would love to. She said that there were great papers written about such natural glues made form rubber for example, but no one has invested the time and money into bringing it to life. This is something that I urge any of you who are interested in sustainability and have access to funds to support, I believe we have all the solutions we need, we just need the will to do them. Get in touch with me if you are interested in making this natural glue a reality.
My mission is to ensure all fitted furniture will be totally sustainable in the future and this can only happen with natural, non toxic glues, so that at the end of the life of the boards, they can just be burned with no more harm than you would cause burning a normal wooden log.
The point of using waste by-products is that it means less trees are cut down. Although trees when replanted and well managed are sustainable it is better to use a waste by product that normally gets burned, and save on some trees. Resources are precious, not finite, so we need to be careful to not use wood for every single thing we make, because of course we pretty much could, but that would get us in a similar mess as petrol has got us. We need variety and to use the right materials for the right situation and intended use rather than wood having a monopoly because a or few large company's dictate so.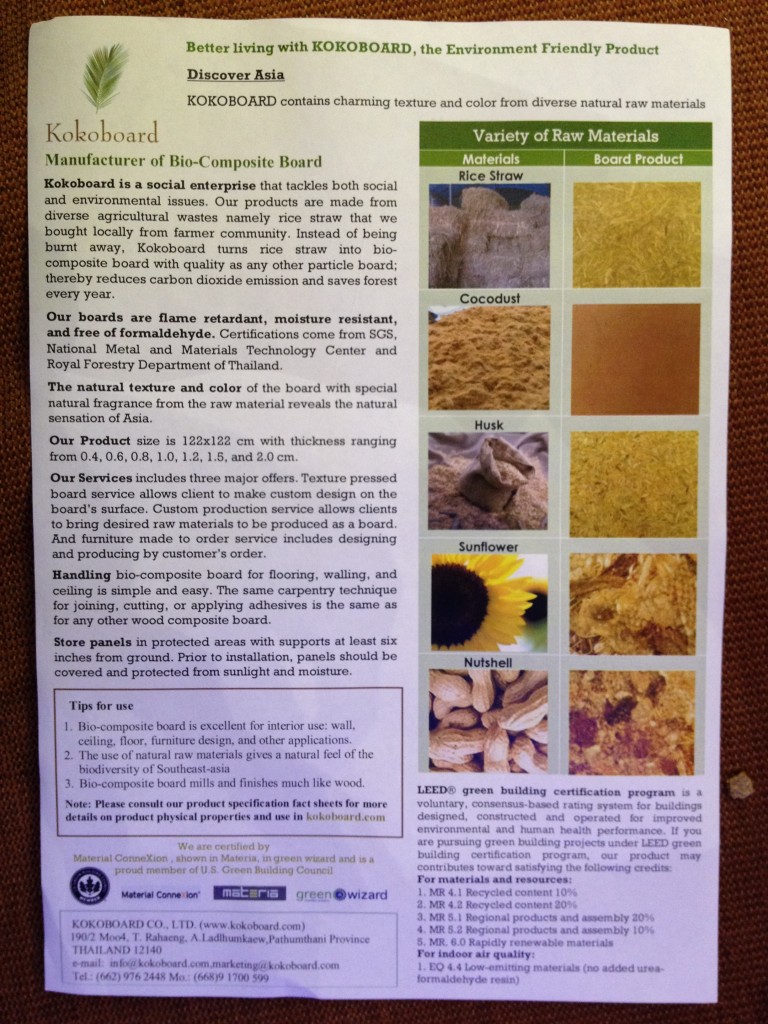 Alot of people want to point out quite rightly that Kokoboard is made in Thailand and should not be shipped around the world! That is totally right, but in order to promote local production around the world we need to make people interested in a material by showing it working in front of their face. So the ultimate aim is that you would have mini Koboboard factories all around the world using the local by products available.
Orapin is an example of someone who is proving that you can do anything if you want to, she took a problem, farmers with low income and a waste product that is burned that produces CO2 and turns it into a material that we can use to build our houses and furniture.
Let's have more Orapin's in the world, you can be the next!
Kokoboard on Facebook http://www.facebook.com/pages/Kokoboard-Company-Limited/178898395513908
Kokoboard on Twitter http://twitter.com/kokoboard
If you have the time to tweet and help Kokoboard with their social media contact info@kokoboard.com to offer your help.
Best of luck,
Tristan Titeux
25 April 2012
I would be pleased to Connect with you here:
Facebook Personal Page: https://www.facebook.com/CustomCarpentry

Facebook Like Page: https://www.facebook.com/customcarpentryuk

You Tube Channel: Search for "CustomCarpentryUK" or click here: http://tiny.cc/76moe

Twitter, search for "@TristanTiteux" here: https://twitter.com/

LinkedIn, search for "Tristan Titeux"
Alternativelly Search Tristan Titeux in Google for more.