A customer sent me a link to this website: http://www.brickbox.es/bookshelf-stackable-modular-shelving-library this morning and told me they wanted a desk building with it, I had a look and after watching the video got so exited about this.
To me this is one of the most eco friendly or sustainable designs I have ever seen.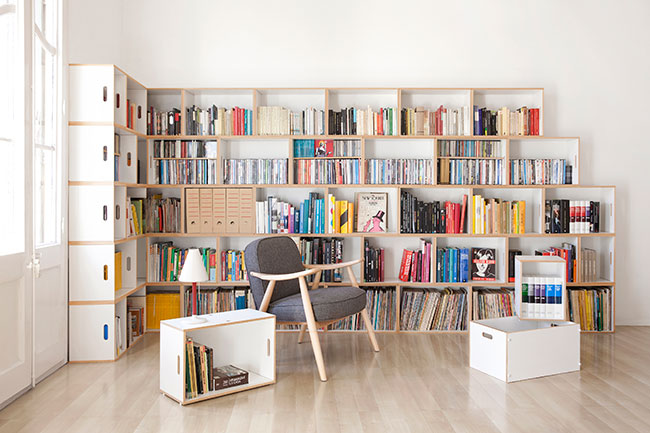 The reason is that the bookcase can be put up easily without skilled labour, it can easily be taken down and put back up again in no time as many times as needed.
I design bespoke fitted furniture and  I am used to making furniture fit peoples belongings, lifestyle and space they have in their home perfectly, although I design my eco units in a way that can be easily dismantled and re built or reused for something else when I saw the BrickBox design I just fell in love because this will save so much waste, resources, time effort and money, it's magic.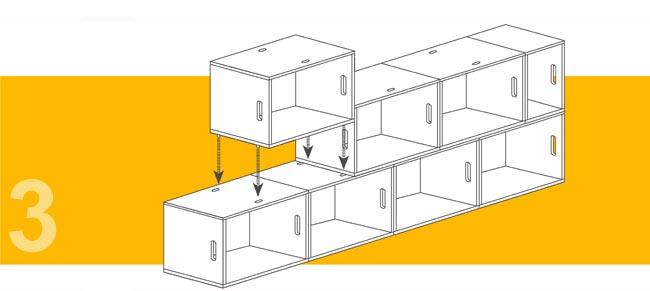 Also it is very stylish, it's not just a practical solution with no style, and this is important, if something isn't nice it won't last. This is white and wood, white doesn't offend many people and goes with every other colour or wood. The birch plywood edge is beautiful, it adds contrast, design and a bit of natural wood. Birch plywood is the most beautiful and best quality plywoods so it's nice to see the linear edge detail.
Also birch plywood is strong so will last a long time and it is sustainably grown, the birch tree grows fast and is better than pine wood because it supports more life and can live in more diverse plantations than pine. The fact that it is made of strong plywood also ensures it last as long as possible. And at the end of it's life, the bookcase or boxes that are damaged can easily be taken apart and used for another project.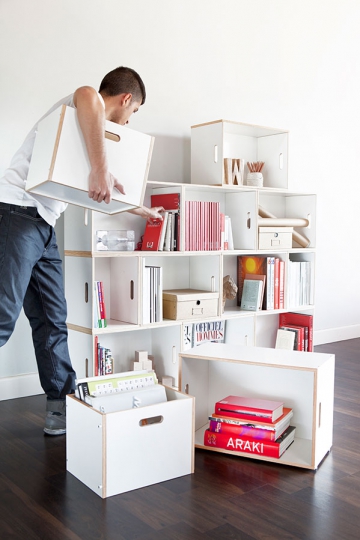 The bookcase can be easily repaired, or one box can be replaced if it becomes damaged. Serviceability is a key part of sustainability, no good is something that you can't repair.
Easy of putting together; the fact that you can move house by simply removing the boxes with the books inside is just amazing, no need to buy and dispose of more cardboard boxes. Less effort is needed because the books are already boxed up, it is geniously simple!
You can make the bookcase any shape and size you like, make room dividers, make coffee tables, get really creative with your design and feel empowered with your design and the self satisfaction that you have created it, and you can change your mind when time comes, it is very satisfying to us to be able to have control of our live and know that we can change something if we want, just at the drop of a hat. So this bookcase serves well the human mind too, it makes you feel good, feel satisfaction and feel that you can change the way you feel.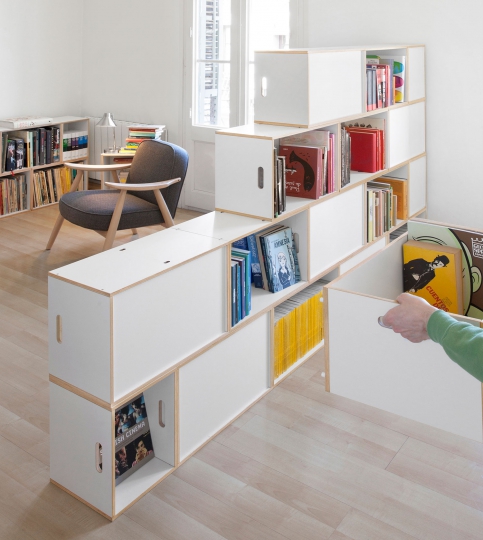 Do you remmeber when you where young and you had a room that you would change around every now and again? Do you remember how exiting it was to redesign it and then the days after, everytime you went into your newly laid out room, how did you feel? I used to love doing that, it was one of the most exiting things I remember, it made me feel so good to change everything around.
Improvements to the design would be a base that would be adjustable and material wise in the future when someone makes a birch plywood using a plant based glue and plant based paint, then that will be the ultimate piece of furniture, all these things already exist and are possible once we wean ourselves of petro chemical dependency.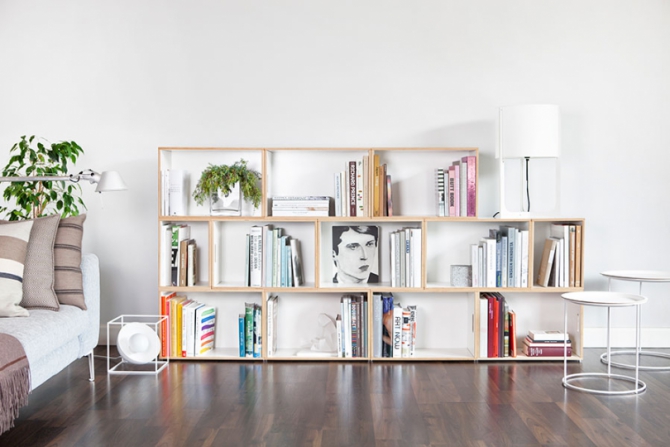 Well done BrickBox, the interesting thing to me is that you have created one of the most sustainable piece of furntiure in exhistance and you havn't even realised it, that is jsut beautiful!
Tristan Titeux
24 July 2013
Visit their website here: http://www.brickbox.es/bookshelf-stackable-modular-shelving-library
Check out the video below:
I would be pleased to Connect with you here:
 Facebook Personal Page

 Facebook Custom Carpentry Page
 Facebook EcoDesignerHome Page
 Facebook Eco Materials Page

 You Tube Channel

 Twitter

 LinkedIn